1. Introduction
he rapid spread of SARS-CoV-2, a new coronavirus that emerged in Wuhan, China in late 2019, has led the World Health Organization to report this disease as an international concern [
4
]. Clinical symptoms at the beginning of the outbreak included fever, cough, and fatigue, and a small number of patients had symptoms of gastrointestinal infection. After about three months, the symptoms of the disease changed and gastrointestinal symptoms and skin rash were also observed [
4
]. To date, no vaccine against COVID-19 is available and there are no specific cures for the virus. Therefore, there is a large scientific gap in the emerging SARS-CoV-2, which leads to the spread of incorrect information [
8
]. The purpose of this review study is to present the latest research advances in genetics, pathogenicity and clinical features of COVID-19 as well as current therapies and scientific advances in the fight against this pandemic.
2. Materials and Methods
This is a systematic overview study. The keywords "Coronavirus disease 2019 (COVID-19)", "Genetics", "Therapy", "Control" and "Public health" were used for the search in PubMed, Web of Science, Google Scholar, and Scopus databases for studies published from 2010 to 2020. The initial search yielded 55 articles. Based on the purpose of the study, the abstract and full texts of studies were checked and finally 30 articles were selected for the review.
3. Results
SARS-CoV-2 is a monopartite, single-stranded, positive-sense RNA virus with a genome size of 29903 nucleotides. The virus genome consists of two untranslated regions (UTRs) at the 3' and 5' end and 11 open reading frameworks (ORFs) that encode 27 proteins [
8
,
32
] (
Table 1
).
The first ORF CORF1/ab) constitutes about 2/3 of the virus genome, encoding 16 non-structural proteins (NSPS), while the remaining third of the genome encodes 4 structural proteins and at least 6 accessory proteins. The structural proteins are spike glycoprotein (S), matrix protein (M), envelope protein (E), and nucleocapsid protein (N) (
Figure 1
), while the accessory proteins are orf3a, orf6, orf7a, orf7b, orf8, and orf10, as shown in
Table 2
[
8
].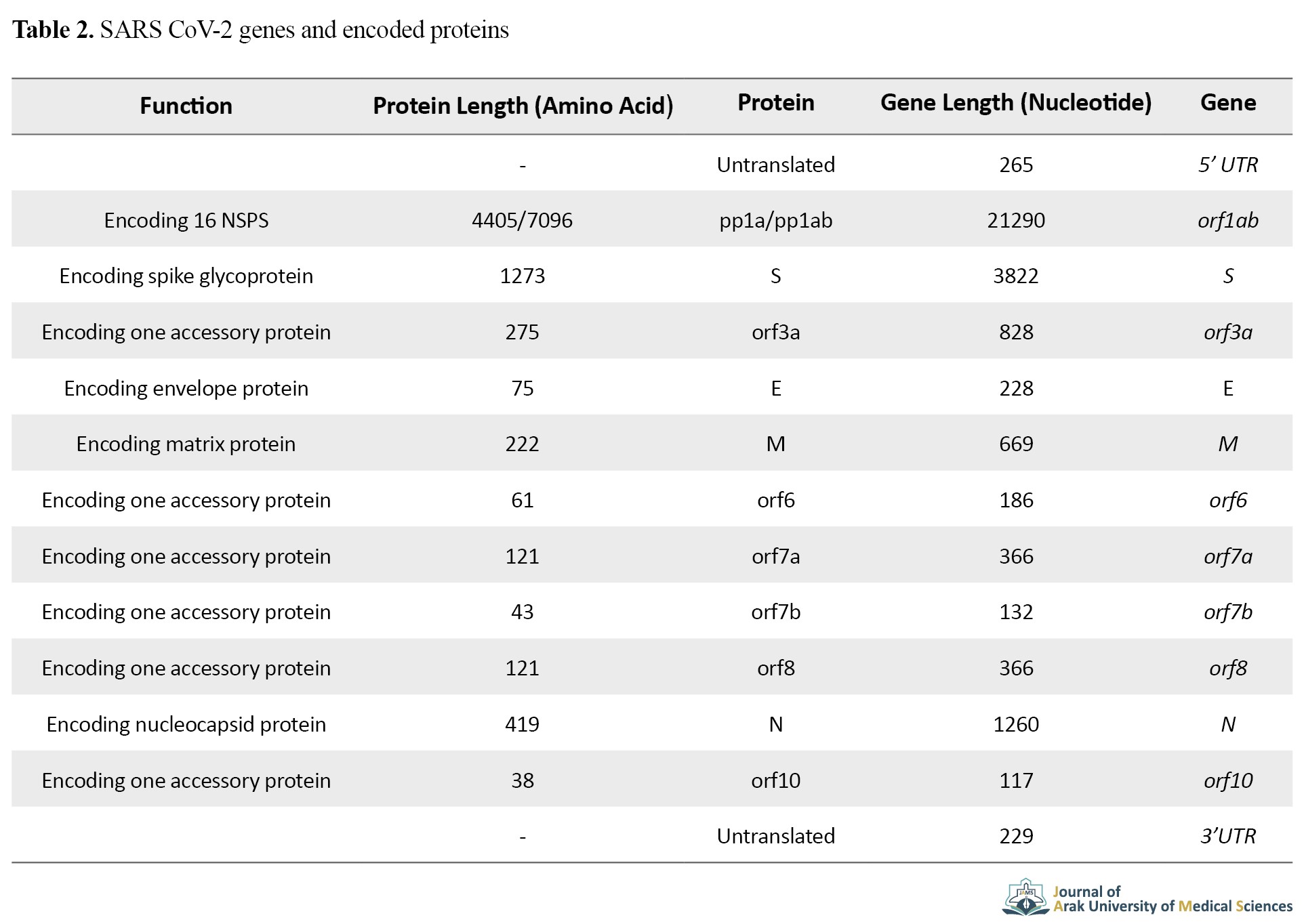 The SARS-CoV-2 virus is transmitted through direct contact, aerosol, fecal-oral route, and infected objects and materials, by symptomatic and asymptomatic patients during the incubation period [
7
,
40
]. It is characterized by fever (88.7%), dry cough (67.8%), fatigue (38.1%), sputum production (33.4%), shortness of breath (18.6%), sore throat (13.9%) and headache (13.6%) in 20-25% of patients who do not show upper respiratory symptoms such as sneezing or sore throat. In addition, a group of patients showed gastrointestinal symptoms with diarrhea (3.8%) and vomiting (5.0%) [
44
]. In severe cases, the disease is characterized by pneumonia, metabolic acidosis, septic shock, and bleeding [
40
].
4. Discussion and Conclusion
In December 2019, a group pneumonia cases caused by a new beta-coronavirus was identified, which led to the rapid spread of COVID-19 worldwide [
78
]. Although advances have been made in the prevention and detection of COVID-19, effective approaches to its treatment and epidemiological control are not yet available. While tests for SARS-CoV-2 genome-specific vaccines and therapeutic antibodies are currently being tested, but this process is long and requires complete safety testing. Reusing existing therapies previously designed for other infections and viral pathology is the only practical approach to this emerging disease, because most of these drugs have already been tested in terms of immune responses. The current pandemic is thought to be a stimulus for changing the approach to reuse current drugs, but for different therapeutic purposes. In this way, with any future outbreak of the virus, potential drugs will be reused.
SARS-CoV-2 has undoubtedly attracted worldwide attention by posing an important challenge to the public health system and existing antiviral solutions. COVID-19 belongs to the beta-coronavirus type based on studies of its evolutionary degree and genomic structure. Human beta-coronaviruses (SARS-CoV-2, SARS-CoV and MERS-CoV) have many similarities, but there are differences in their genomic and phenotypic structure that can affect their pathogenesis. Without full knowledge of the drug target, it is challenging to develop promising and cost-effective drugs for the effective treatment of human diseases.
Ethical Considerations
Compliance with ethical guidelines
Ethical principles have been observed according to the instructions of the National Ethics Committee and the COPE regulations.
Funding
This research did not receive any grant from funding agencies in the public, commercial, or non-profit sectors.
Authors' contributions
All authors contributed equally in preparing this article.
Conflicts of interest
The authors declare no conflict of interest.
References