1. Introduction
he new coronavirus disease 2019 (Covid-19) outbreak in late December 2019 initiated from Wuhan, China, has posed a great global health threat. According to studies, most people with Covid-19 have underlying diseases such as high blood pressure, cardiovascular diseases and diabetes, and the mortality rate in these people is higher than in other patients [
5
,
4
,
3
]. The aim of this study is to evaluate the prevalence, severity and mortality rate of Covid-19 in patients with underlying diseases in Iran compared to other patients.
2. Materials and Methods
This study was performed on 1408 patients with Covid-19 who were admitted to Hajar, Golestan, Khanevadeh and Besat hospitals in Tehran, Iran from March to June 2020. Prevalence, severity and mortality were calculated in four study groups:with a history of diabetes, with a history of cardiovascular disease, with a history of hypertension, and with no history of underlying disease. The data were analyzed in SPSS V. 26 by using descriptive statistics, paired t-test, independent t-test, and chi-square test considering a significance level of 0.5.
3. Results
Of 1408 patients, 912 were male (64.8%) and 496 (35.2%) were female, with a gender ratio of 1/8 and a mean age of 57.8 years (ranged from 18-98 years). Based on the results, intubation was performed for 27% of patients and 21.9% died. In terms of blood oxygen level, patients were divided into two groups, 53.7% had oxygen level <93 mg/dl and 46.3% had oxygen level >93 mg/dl (
Table 1
).
The results of examining the clinical manifestations of patients showed that the most common symptoms were fever, cough and shortness of breath. Moreover, the most common underlying diseases were hypertension, diabetes and cardiovascular diseases. The mortality rate of patients in different groups is presented in
Table 2
.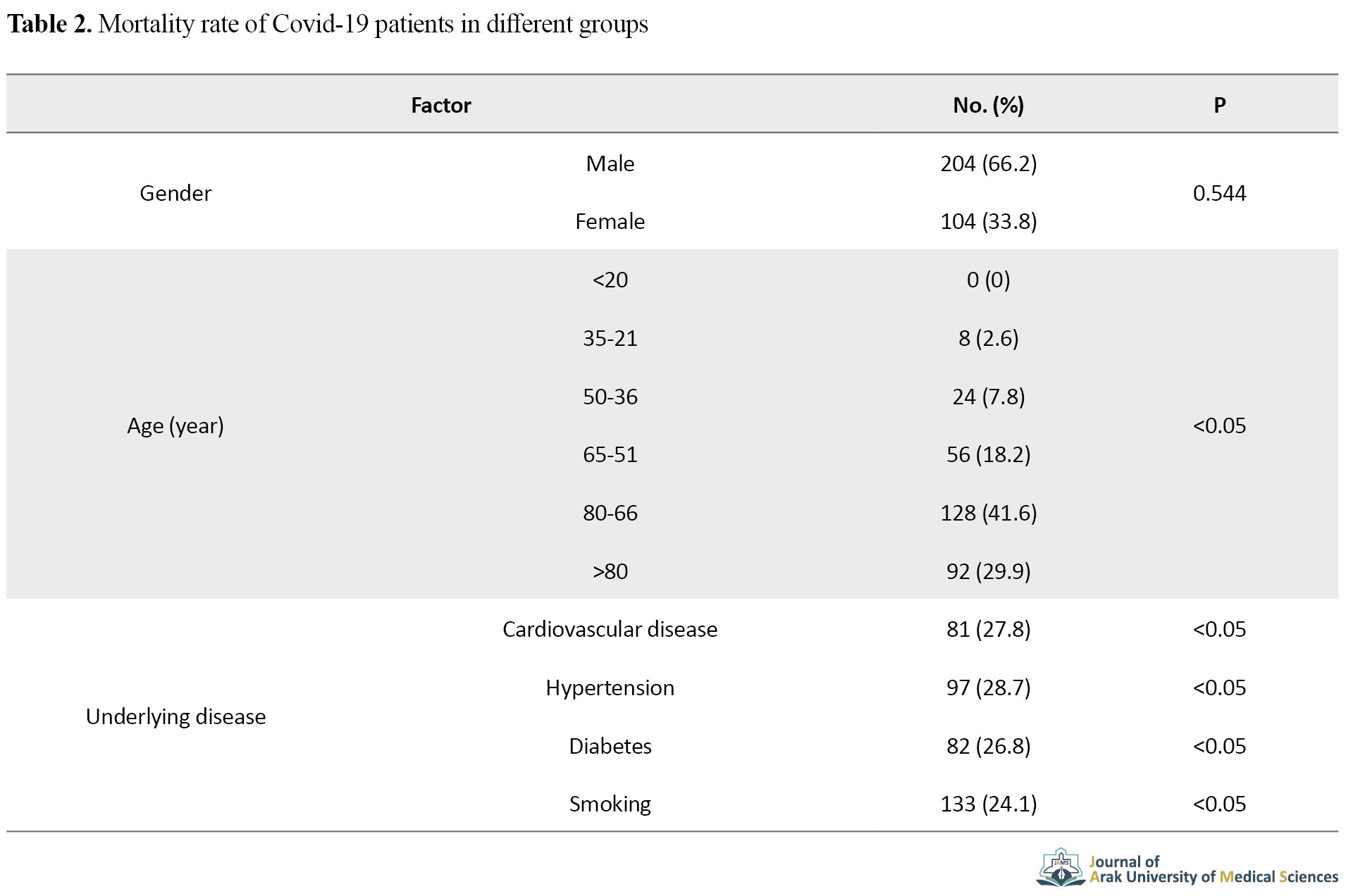 4. Discussion and Conclusion
The purpose of this study was to investigate the prevalence, severity and mortality rate of Covid-19 among patients with underlying disorders compared to controls. The results showed that patients with diabetes, high blood pressure and cardiovascular disease had a higher risk of developing the Covid-19 than others in the community, as reported in other studies. High blood pressure is often associated with other risk factors such as cardiovascular diseases and diabetes, which in turn increases the risk of developing Covid-19 [
7
]. Diabetes can be also considered a risk factor for the deterioration of Covid-19 [
4
]. Previous studies have also shown that diabetes and cardiovascular disease increase the risk of SARS and MERS, which, like the Covid-19, are an acute respiratory syndrome. They increase the probability of death from SARS by 11% and 8%, respectively. More than 50% of people with MERS had diabetes and hypertension and more than 30% of them had cardiovascular diseases [
8
]. According to the results, diabetes, high blood pressure and cardiovascular disease increased the mortality rate of Covid-19 patients. The results of this study also showed that the mortality rate in smokers with Covid-19 was higher than in controls. Therefore, it is recommended that Covid-19 patients with underlying diseases be more careful about following health safety protocols, and when a vaccine for this disease became available, people with underlying diseases should be given priority.
Ethical Considerations
Compliance with ethical guidelines
This study was approved by the Research Ethics Committee of AJA University of Medical Sciences (Code: IR.AJUMS.REC.1399.091).
Funding
This study was supported by the AJA University of Medical Science (No. 97001203).
Authors' contributions
Conceptualization, methodology, and data analysis: Emran Esmaeilzadeh and Mehrdad Nasrollahzadeh Sabet; Investigation, resources, initial draft preparation, editing & review: Mohammad Khanalipour, Milad Gholami, Abdolazim Sarli, Arefeh Rahimikhorrami.
Conflicts of interest
The authors declare no conflict of interest.
Acknowledgements
The authors would like to thank School of Medicine, AJA University of Medical Sciences for their financial support.
References